Method of omim prediction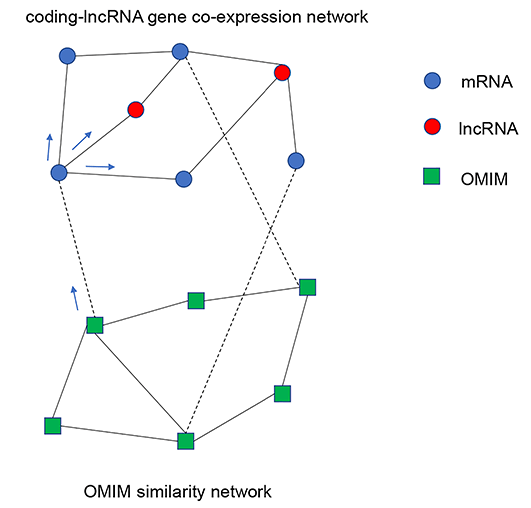 We use the RWRH (random walk with restart on heterogeneous network) algorithm1 to analyze the relationship between lncRNA and OMIM in MATLAB. The upper subnetwork is coding-lncRNA gene co-expression network, and the lower network is OMIM similarity network. OMIM similarity matrix is from Disimweb2 and gene-OMIM relationship is from InterMine3.
1. Li, Y. & Patra, J. C. Genome-wide inferring gene-phenotype relationship by walking on the heterogeneous network. Bioinformatics 26, 1219-1224, doi:10.1093/bioinformatics/btq108 (2010).
2. Caniza, H., Romero, A. E. & Paccanaro, A. A network medicine approach to quantify distance between hereditary disease modules on the interactome. Sci Rep 5, 17658, doi:10.1038/srep17658 (2015).
3. Smith, R. N. et al. InterMine: a flexible data warehouse system for the integration and analysis of heterogeneous biological data. Bioinformatics 28, 3163-3165, doi:10.1093/bioinformatics/bts577 (2012).
| ZFLNC lncRNA | OMIM | Phenotype |
| --- | --- | --- |
| ZFLNCG06961 | 600625 | Orofacial cleft 11 |
| ZFLNCG05895 | 266600 | Inflammatory bowel disease 1 |
| ZFLNCG13160 | 108600 | Spastic ataxia 1, autosomal dominant |
| ZFLNCG11719 | 613310 | Exudative vitreoretinopathy 5 |
| ZFLNCG08962 | 151600 | Nail disorder, nonsyndromic congenital, 3, (leukonychia) |
| ZFLNCG09755 | 604233 | Epilepsy, generalized, with febrile seizures plus, type 1 |
| ZFLNCG03687 | 116920 | Leukocyte adhesion deficiency |
| ZFLNCG02067 | 185800 | Symphalangism, proximal, 1A |
| ZFLNCG06945 | 612460 | Obesity, susceptibility to, BMIQ14 |
| ZFLNCG04642 | 613765 | Cardiomyopathy, familial hypertrophic, 9 |
| ZFLNCG12313 | 615377 | Atrial fibrillation, familial, 13 |
| ZFLNCG11158 | 614063 | N-acetylaspartate deficiency |
| ZFLNCG00470 | 614024 | Protein Z deficiency |
| ZFLNCG05957 | 600334 | Tibial muscular dystrophy, tardive |
| ZFLNCG05577 | 613982 | Osteogenesis imperfecta, type VI |
| ZFLNCG10966 | 609140 | Corneal dystrophy, posterior polymorphous 2 |
| ZFLNCG00920 | 610015 | Glutamine deficiency, congenital |
| ZFLNCG10318 | 613065 | Leukemia, acute lymphoblastic |
| ZFLNCG02407 | 600204 | Epiphyseal dysplasia, multiple, 2 |
| ZFLNCG11719 | 253700 | Muscular dystrophy, limb-girdle, type 2C |
| ZFLNCG13032 | 300215 | Lissencephaly, X-linked 2 |
| ZFLNCG06543 | 169100 | Char syndrome |
| ZFLNCG08398 | 610427 | Cone-rod synaptic disorder, congenital nonprogressive |
| ZFLNCG00048 | 608423 | Muscular dystrophy, limb-girdle, type 1F |
| ZFLNCG10945 | 612132 | Ectodermal dysplasia, anhidrotic, with T-cell immunodeficiency |